As Liz Truss, the UK's new Prime Minister, starts her challenging role amidst multiple crises, it is worth reflecting on the principles underpinning effective leadership transitions.
Leadership transitions are becoming increasingly common. They occur when executives or leaders move to new jobs in different organizations or when leaders are promoted in their current company. However, in today's hyper-competitive and volatile environment, successful moves are increasingly challenging, even for the brightest and most experienced leaders. The failure rate of new leaders is high and growing. For example, McKinsey found that 27-46% of executives who transition are regarded as failures or disappointments two years later.
So, what are the key guiding principles behind successful transitions:
Start before the person joins
Onboarding programs vary in scope and effectiveness, but many start the process too late, when the leader has already joined the organization.
To accelerate integration of the leader into the organization, it is advisable to start the process before day one. Steps companies can take to do this include providing new hires with:
A thorough onboarding and transition plan for the first 3-6 months and inviting input from the leader on specific questions they have that they'd like addressed.
A thorough onboarding and transition plan for the first 3-6 months and inviting input from the leader on specific questions they have that they'd like addressed.
Summary documentation and insights about the company's strategy and success drivers, structure, products, talent, culture, and competitive environment.
Access to a mentor or external coach to support their transition.
An opportunity to meet and get to know their new team members in an informal setting such as a lunch or virtual coffee meetup.
Clarify expectations
Leaders starting a new role, especially those who are external hires, need a clear understanding of what is expected of them by different stakeholders and constituents. To expedite this process, HR departments can provide new leaders with an up-to-date organizational chart and stakeholder map, reflecting other key stakeholders that will be crucial to the leader's effectiveness. They should also ensure new leaders have an opportunity to meet their superiors, peers, and other key stakeholders as quickly as possible. Ideally, responsibility should be delegated to an executive assistant or senior administrator to arrange these meetings as a matter of priority.
It is also important for HR to include a 1-1 session with the leader in the first week to talk through key HR policies, the employee handbook and any implicit expectations, norms and beliefs related to the company's culture. This will help the leader understand what is expected of them, including all the unwritten rules and standards that don't appear in the handbook and policies.
Provide a structured journey to support effective integration
Studies show that ramp-up time for external hires is typically six to nine months. This time can be accelerated with well-designed onboarding and integration programs. But an effective integration program will also reduce costly mistakes and U-turns, minimize staff morale and turnover problems, and promote strong relationships with the leader's new team and stakeholders. Specific areas that the program should cover are detailed in the diagram below. Key aspects include:
Announcements regarding the new leader's arrival to the team, organization, and other relevant stakeholders.
Meetings with key stakeholders so the new leader can get to know key people they will be interacting with and build a good understanding of the company.
Policies and procedures relating to the role and team.
A 90-day plan covering what the leader needs to learn, communicate and do.
A feedback and coaching session (ideally with an internal or external coach) based on the hiring and assessment process to help the leader build additional insights about their strengths, style, and values and how these fit their new context. This session should also consider ways to tackle any performance risks and opportunities for improvement.
Priority challenges they may face in the first year and who they should engage with to help them deal effectively with these.
Promising opportunities (processes, people, products, markets, etc.) that are currently being explored and require attention in the coming months.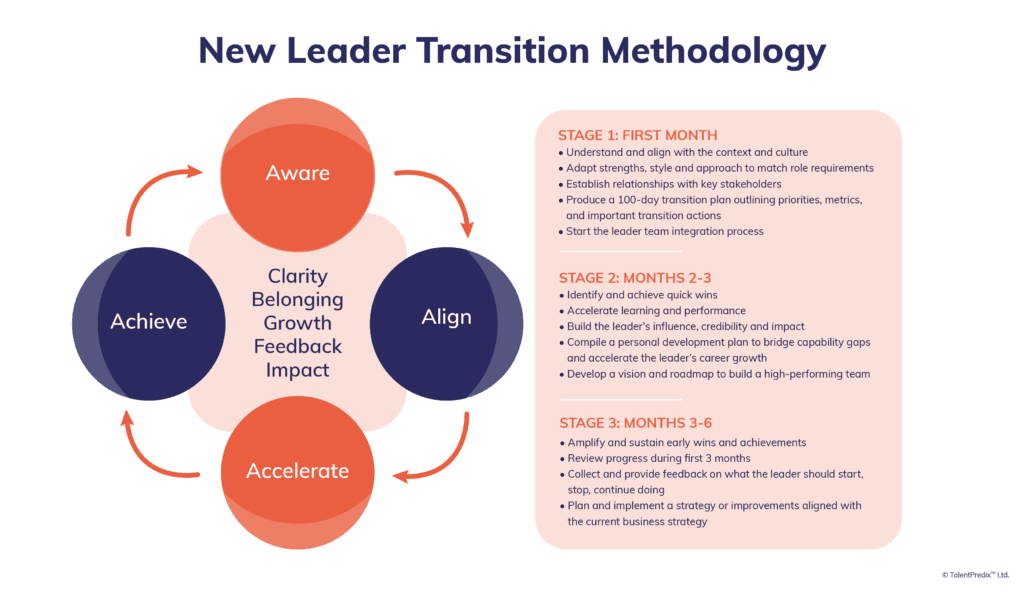 Be clear on the development support and resources available
Together with an attractive remuneration package and supportive boss, access to engaging development and career opportunities is the factor most likely to motivate and retain talented leaders.
It is therefore important to clearly signpost development resources and program that may be of value to the new leader when they join. These should be aligned with their development goals, learning style and career aspirations. During the first 3 months, the leader should have an opportunity to sit down with their boss for a high-quality career dialogue. The purpose of this is to identify specific development goals and a Personal Development Plan to guide their development and growth. The leader should ideally also be offered an internal or external coach and mentor/s to support their development. This highly personalised approach to development has been found to be particularly effective for leaders and executives in transition.
Plan regular check-ins and feedback
It is important to schedule regular HR check-ins with the new leader at least every month to check on progress and share any feedback you and your team are hearing. Similarly, the leader's line manager should ensure they maintain a cadence of weekly or fortnightly meetings with the new leader to discuss progress, answer any questions they may have and provide appropriate guidance, coaching and feedback.
These check-ins and review points are also a good opportunity to invite feedback from the new leader on their experiences, observations, and feedback, including suggestions to improve the team, business and onboarding process.
Provide expert coaching
New leaders can often feel isolated, and feelings of anxiety, fear and confusion are normal. Expert transition coaches understand these feelings and create a safe space for leaders to reveal their fears, limiting beliefs and vulnerabilities. They can also provide a neutral, non-judgemental sounding board for the new leader to test out ideas and alternative courses of action before taking significant decisions.
By providing a structured process, support, and regular check-ins to discuss progress, organizations will significantly improve success rates for external hires and newly promoted leaders. This will avoid the considerable financial and non-financial costs (including declines in team morale, unwanted turnover, customer losses and reputational damage) associated with transition failures.
If you would like to find out more about our transition support and coaching for new leaders, contact us at info@talentpredix.com