Organizations are increasingly helping their employees discover, develop, and deploy their talents and strengths more effectively to achieve greater performance, motivation, teamwork, and retention. This reflects a significant shift in mindset from a deficit-weakness talent management focus to a more positive, strengths-based one. However, the prescription is incomplete. Helping people to discover and use their talents and strengths more does typically drive better workforce outcomes, but it may also backfire in some instances. This is because of the dualistic nature of human talents. Just like jet engines, people's natural talents and strengths harbour tremendous power to create positive energy and propel us forward towards our performance and career goals. However, they can also lead to unintended consequences or even complete failure when overused.
What are overused talents and strengths?
We define these as talents or strengths (or a combination of them) that are over-used or used in excess, resulting in negative outcomes. Overused talents and strengths can be seen as weaknesses by others and lead to poor results, damaged relationships, and career derailment. Studies show that more people experience performance shortfalls and derail in their career because of overused talents and strengths rather than more obvious competency weaknesses. For example, when effectively applied, my Boldness talent (which has been hugely instrumental in my career success) means I take on risks and am prepared to challenge the status quo in support of new thinking and change. However, earlier in my career, I was far too eager to take on risky positions and challenged established views and assumptions head-on, without taking sufficient account of the audience and history. This behaviour was sometimes perceived as overpowering and overly challenging by others. One of my greatest talents was being overused and became a potential derailer. Through greater self-awareness of the risks associated with my Boldness talent, I have been able to apply it more skillfully.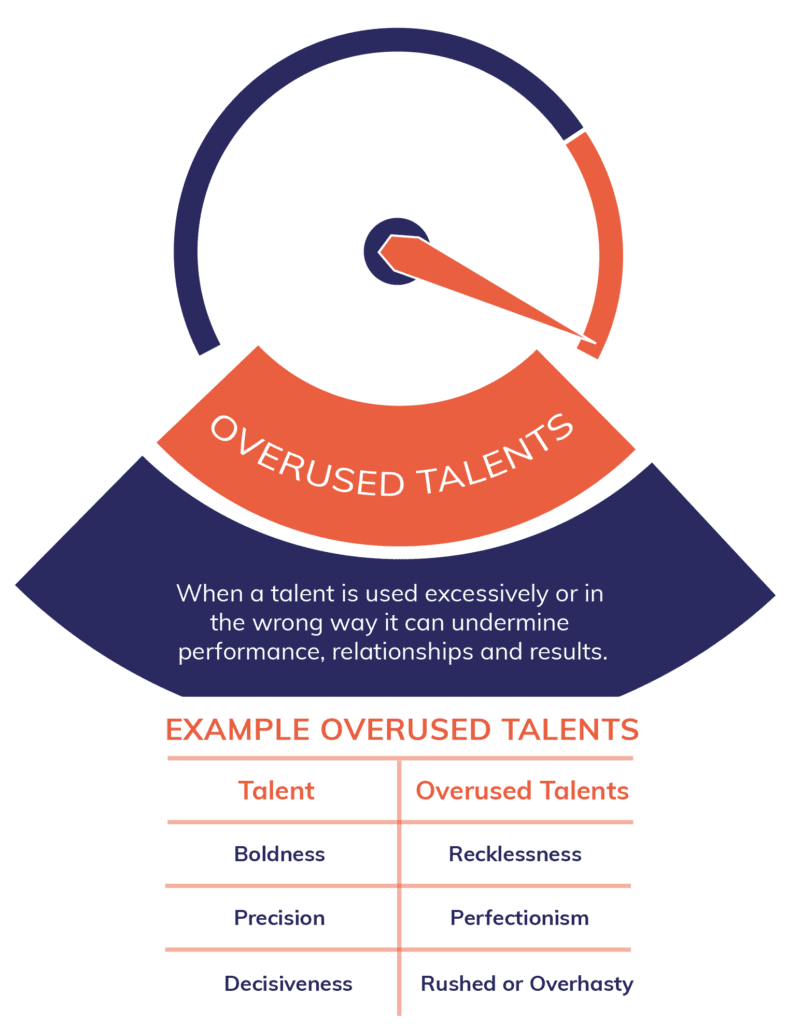 What gives rise to overused talents and strengths?
There are a variety of internal and external factors that can cause people to overuse their talents and strengths including:
Poor self-awareness
Stress and pressure, including when important values are challenged
Lack of honest feedback
Positive reinforcement of overused behaviours in the past
Poor situational awareness and self-regulation of excessive behaviours
Inflexibility and resistance to change
Lack of learning agility
It is important to help people pinpoint specific triggers leading to limiting behaviours associated with overused talents and strengths, so they are more conscious of these underlying causes. By raising awareness of these triggers and how to replace unproductive habits with more effective ones, you can empower people to use their talents, strengths and skills more effectively.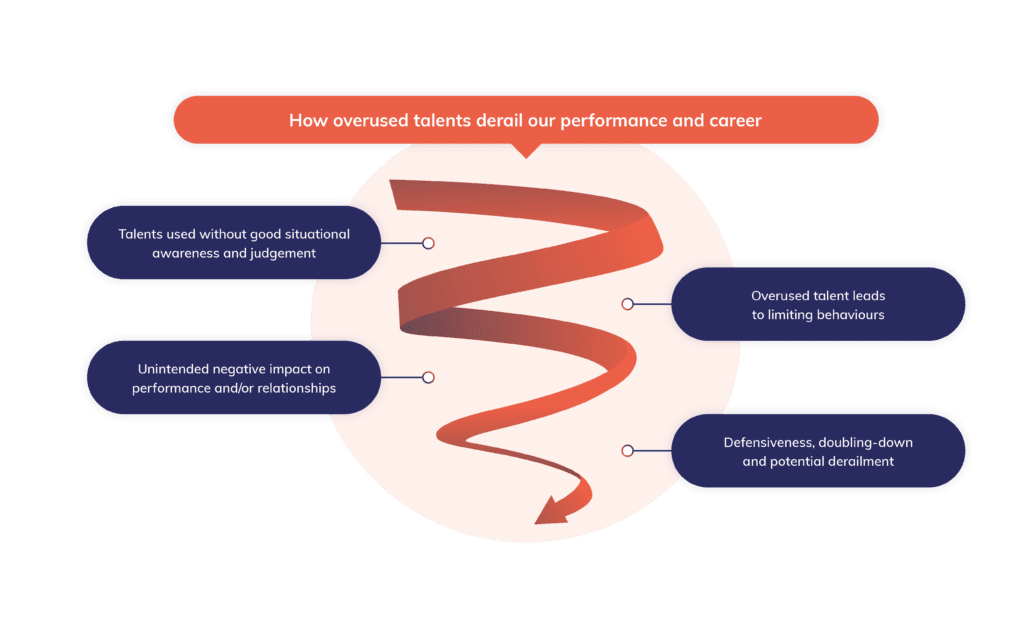 Why is it so important to tackle overused talents and strengths?
There are numerous benefits that arise when employees are more aware of their overused talents and strengths. Some of the most important include:
When people are more aware of limiting behaviours associated with overused talents and strengths, they are empowered and motivated to improve their performance. They recognise that what they may have seen as fundamental character flaws or weaknesses are their natural talents or strengths that are being used ineffectively. This results in a more positive and open approach to learning and growth, giving rise to deeper and more meaningful changes in their behaviour.
People are more open to constructive and critical feedback when it is framed in the 'language' of overused talents and strengths. Tough feedback about weaknesses can elicit a whole range of defensive responses, especially from perfectionists and people with strong egos. I am not suggesting that conversations should be dishonest or should never broach the topic of weaker areas. However, as research has shown, the reality is that many examples or poor performance stem from overused talents and strengths.
A focus on talents and strengths (and overused talents/strengths) within a team encourages a more appreciative and tolerant team willing to accept individual uniqueness and vulnerability. It helps team members recognize that all people tend to overuse their talents and strengths on occasion. For example, rather than seeing a person who is strong on precision or detail as "stuck in the weeds", they will have a better understanding that this is simply the less desirable behaviours of the overused Precision talent. This empowers them to provide feedback to the person to dial back on their Precision when a more strategic perspective is called for.
Raising awareness of overused talents and strengths
The first step in managing and mitigating overused talents and strengths is to raise awareness of the limiting behaviours and impact of these, for the person, their team, and the organization. As a starting point, we typically encourage people to assess their talents and overused talents and strengths using a scientifically validated talent assessment like TalentPredix™ which can pinpoint specific behaviours that are most likely to limit effective performance. Once people have a good understanding of their talents and associated limiting behaviours, they can become more intentional and conscious about using them more selectively and effectively.
Matching your talents and strengths to the needs of the situation
At TalentPredix™, we have found that for talents to be fully optimized and regarded as "strengths", people need to develop the skill and adaptability to use their talents effectively across a range of situations. This can be expressed as:
Optimized talents = f (talents X skills X adaptability)
Using blended learning solutions, including assessment, facilitated workshops, and coaching, we work with employees to help them develop specific strategies and techniques to match their talents to the requirements of the situation. Some of these techniques include:
Helping people learn how to dial up and dial down their talents and strengths depending on the needs of the situation and audience.
Empowering people to be more intentional about when and how to use their talents and strengths before they act. This helps to prevent and mitigate unhelpful automatic habits we develop over time.
Bringing in colleagues with complementary talents to help them by providing support, feedback, and constructive challenge.
Helping people identify supporting or companion talents that can help mitigate the limiting effects of their overused talents and strengths. For example, I use Understanding Others as a supporting talent to listen to and empathize with others prior to using my Boldness talent to offer challenge.
To ensure ongoing growth and positive change, we encourage people to invite regular feedback from their co-workers and other key stakeholders across different performance contexts. This ensures that the necessary adjustments can be made in the same way that a pilot needs constant feedback on environmental factors such as wind speed, weather conditions, air traffic, etc. to make safe and effective decisions about how best to fly their plane.
To unleash the full potential of your people and empower them to achieve their goals, it is crucial that they understand how to apply their talents and strengths most effectively across different situations. It is equally important they understand and actively mitigate the limiting effects of their overused talents and strengths. With this holistic awareness, they can use their talents and strengths in a more conscious, careful, and competent way, enabling them to thrive at work and deliver extraordinary results.
Please click here to get more information about TalentPredix™ and how to tackle overused talents and strengths.