Become a qualified TalentPredix™ strengths practitioner and empower people to optimize their strengths, performance and career success.
TalentPredix™ is the only strengths assessment profile on the market today that helps people understand their career motivations and values, as well as their strengths. It is also the only validated strengths assessment that provides people with in-depth insights about overused behaviours that can sabotage and derail their performance when they are using their strengths too much or in the wrong way.
In this training, you will learn how to:
Use the TalentPredix™ strengths assessment to identify, develop, and engage people with the strengths and potential to succeed.
Use TalentPredix™ to identify people's / your employee's unique strengths, motivations, and values so they can be matched with roles, projects and career opportunities that bring out the best in them.
Help your people develop and optimize their strengths, motivations, and values to accelerate their success, engagement, and career growth.
Coach others to overcome weaknesses and behaviours that limit their performance.
Elevate your strengths and coaching skills and learn how to use your strengths and individuality to improve your effectiveness.
Network and share learning with other coaches and people professionals.
Who is the course for:
HR managers and professionals
HR and talent management consultants
Team leaders
L&D and Training consultants
OD specialists
Early careers specialists
Recruiters (in-house and agency)
Anyone else wishing to expand their strengths assessment and coaching skills
Learning duration and format:
Total learning time is around 12 hours, including pre-work, a 7-hour online workshop, and follow-up practice.
Price:
£649 per person excl. VAT (20%). 
People booking at least one month before the course date will be eligible for a 10% early bird discount.
Use the chat to request this discount code.
There are two ways to get trained:
1. Join a public programme – see the date options below and book online.
2. Hold or join an in-house training programme – can't find a date that works for you, or want to train 4 or more people within your organisation at the same time? Register here and complete a training request form.
For more details:
What's included:
After the training, you will benefit from being part of a dynamic global community of strengths coaches and practitioners helping people to achieve their full potential. As part of this community, you will gain access to masterclasses, webinars, events, resources and tools to help employees optimize their strengths, potential and success.
You will also get:
Lifetime access to use the TalentPredix™ online assessment system
Your TalentPredix™ profile plus two complimentary assessments for practice
Discounts on TalentPredix™ profiles and products
A personalized TalentPredix™ Practitioner Certificate
Membership of the TalentPredix™ Practitioners Network
Hear from previous attendees: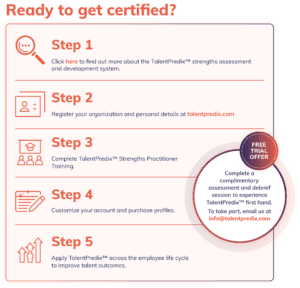 In stock